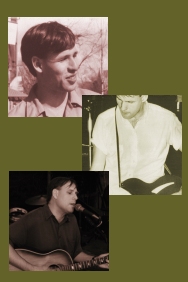 Holden Richards has been making music in and around Chapel Hill for two decades starting out in the 1980s in the seminal punk band the Pound Notes. The Pound Notes brushes with fame include when it recorded a quick demo at the famous "Drive In" with Mitch Easter (REM, Let's Active) around 1982 and also that a member of that early group was John Schultz, now a Hollywood director (Like Mike).
Around Fall 1983 Holden started the folk/pop/rock band One Plus Two and landed a record deal with Homestead Records for 2 albums. Members of One Plus Two went on to join the dBs (Eric Peterson) and Snatches of Pink (Andy McMillan). One Plus Two Albums reviewed fairly well and hit high numbers in the college radio charts of the time. At the peak of their popularity One Plus Two was showcased on MTV's The Cutting Edge.

After One Plus Two had run its course, Holden joined with longtime triangle music scene stalwart Paul Price and started the Swamis. The Swamis lasted from 1986 to 1996 with various changes in personnel but rarely performed without Price or Richards. It was during this time that long time associations with producer Wes Lachot (Velvet Crush, John Hartford) and others in the triangle music scene led to the many musical collaborations on the Swamis CD "Not Where I Started From" some notable appearances included Chris Stamey (dBs) , Stacy Guess (Squirrel Nut Zippers) Ed Butler(Red Clay Ramblers), Jack Campbell (Pressure Boys, Johnny Quest), Parthenon Huxley (Rick Rock, Orchestra) and included rough tracks from Darren Jessee (Ben Folds Five) who had a brief stint in the band as well.

The latter part of the 1990s saw Holden participate as a regular in the Songwriter's Alliance with triangle music luninaries Jeff Hart (The Ruins, Brown Mountain Lights) Wes Lachot and Chris Stamey and later Brad Newell (Eight Eyes, The Graphic). The Songwriters Alliance show format allowed for divergent guest artists like Ryan Adams (Whiskeytown) and Claire Holley to perform with the regulars.
In 2001 Holden was asked to participate in "Chronic Night - celebrating 20 years of REM" concert in Chapel Hill along with other scene notables. Holden Richards continues to record and perform today. His new CD "What I Gave Away" features new songs and contributions from an amazing group of musicians.
As well as being a headlining act, here is a sampling of artists Holden Richards has fortunate enough to open up for through the years: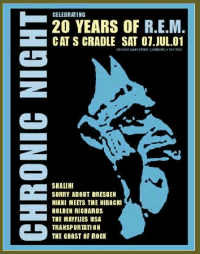 Rain Parade
Lets Active
Red Hot Chili Peppers
Alex Chilton
dB's
Hoodoo Gurus
Buzz of Delight
Oh Ok
Beat Rodeo
NRBQ
Richard Lloyd
Chris Stamey
Eleni Mandell
Southern Culture on the Skids
the Replacements
Thad Cockrell
Guadal Canal Diary
Contact
Write:
Holden Richards
109a Brewer Lane
Carrboro NC
27510

Email: fhr@kitchenmedia.com
Thanks always to these great people:

One Plus Two: Personnel (band lifetime)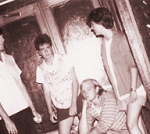 Holden Richards
Eric Peterson
Mary Clyde Bridgers
Andy McMillan
Susan Kent
Rob Stuart
Bob Cook
Swamis: Personnel (band lifetime)

Holden Richards
Johnny Hanks
Paul Price
Brent Lambert
Jeff Brooks
Klee Liles
Rodney Howard
Bob Cook
Ricky Hasley
Bill Dribben
Nat Smith
Alan Spruyt
Ed Butler
Julnar Rizk
Jack Campbell
Darren Jessee
Shannon Dancy
Wes Lachot